Through mobile data entry, efficiency is vastly optimized regarding material management (SAP-MM) and storage processes, (SAP-WM / EWM) as well as related topics such as supply to production and maintenance.
Mobility
Mobile data entry provides guidance through complex processes and makes them more efficient.
Using intelligent process design, mobile systems contribute to optimized logistic procedures and error prevention, which subsequently reduces cost and improves the competitive position of a company.
Our experienced employees will support you in the useful integration of mobility applications, including a complete technical integration of barcode and RFID technology into your SAP system. We provide guidance during the design of ergonomic transactions and implement solutions for your specific needs.
The range of mobility projects that have been carried out covers several current processes used within SAP systems. In addition to an excellent knowledge of processes, we are also proficient in the methods and techniques geared toward realization. On top of that, we also provide support in the selection of appropriate hardware and software.
Mobility Projects
Materials Management (SAP-MM)
Warehouse Management (SAP-WM / EWM)
Handling Unit Management (HUM)
Manufacturing Logistics (SAP-PP)
Maintenance (SAP-PM)
Examples for Realization
Mobisys Solution Builder
SAP Fiori
SAP Mobile Infrastructure
ITS Mobile and Extended ITS-Mobile
EWM
As part of SAP supply chain management (SAP SCM), SAP extended warehouse management (SAP EWM) is a strategic storage solution and covers the requirements of modern warehouse logistics.
The main components of SAP EMW are warehouse management and the material flow system (SAP MFS).
As an integral part of the SAP SCM platform, the SAP EWM system can be used decentrally and independently of an already existing SAP ERP system.
Through continuous development, SAP EWM offers an ever-increasing range of functionality related to storage processes for companies, who up until now have had many special, non-integrated applications of third-party providers.


Highlights within SAP EWM:
Multiclient capability
Flexible modeling of warehouses and its procedures (cross docking, yard management)
Transparency of stocks and processes (batch, serial numbers and handling unit management, catch weight management)
Optimized for storage planning and process execution (consignment and manufacturing logistics, wave management)
Support of modern services (consolidation and deconsolidation, resource management, kitting, pick and pack)
Seamless integration of e.g. RF and RFID techniques
Integration into the SAP logistics scenario
Image 1: SAP EWM as a separate instance on the SCE platform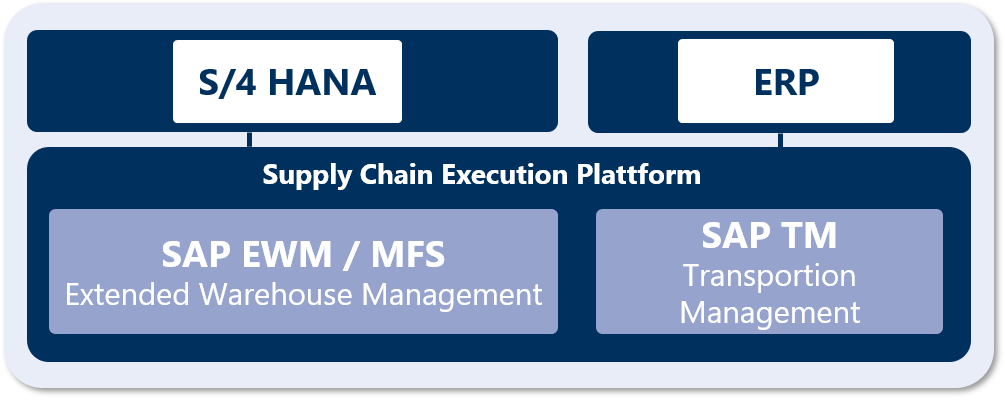 SAP S/4HANA is the high performing in-memory technology of SAP. Through the combination of software and database solutions, performance has increased drastically.
Meanwhile, SAP offers SAP EWM, which is an embedded solution for S/4HANA that allows warehouse management to be now run on the central ERP system.