SAP released the next generation of ERP software called S/4HANA. With S/4HANA's In-Memory technology as well as a new kind of data storage on the HAHA database, data analysis capabilities within this software suite enhanced dramatically, even without a separate data warehouse system. This means that reporting can now be carried out within the ERP core system.
SAP S/4HANA Embedded Analytics makes it possible to create reports and applications of transactional data directly within the ERP system. Moreover, a direct integration of analytics in certain transactions is possible. For a more advanced analysis, additional standard components such as predictive analytics and machine learning are available.
Using intuitive tools and modern user interfaces, we assist you in the implementation of your reporting requirements. We do this according to your targets: elaborate, flexible and cost efficient.
Our Portfolio
S/4HANA Embedded Analytics
Within the S/4HANA environment, SAP Analytics represents a more tactical/strategic analysis using a business warehouse on HANA (SAP BW/4HANA), whereas operational analysis is carried out in Embedded Analytics. In conjunction with our many years of experience in analysis of operational data within SAP ERP systems, our scope focuses on the numerous features of Embedded Analytics. Through Embedded Analytics, operational data is available at real-time. The virtual character of the objects allows for effective modeling.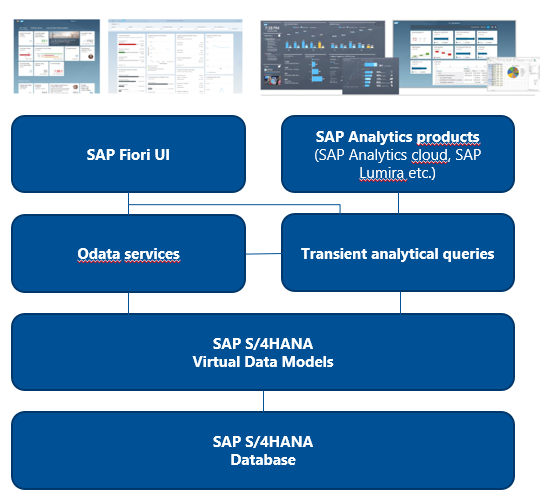 With the use of CDS-Views (Core Data Services), Virtual Data Models (VDMs) can be created. These VDMs can then be utilized by other front-end tools such as:
Business Objects (WEBI, Analysis for Office, Crystal, OLAP)
SAP Lumira (data visualising tool containing interactive dashboards)
SAP Leonardo
SAP Analytics Cloud
ALV Grid
FIORI Analytical Apps
The customer defines which of the aforementioned tools shall be utilized. Here you benefit from our extensive SAP experience and our independent point of view.
SAP ECC Reporting
Today, analysis and reporting is a very individual process within the classic SAP ECC. With more than 20 years of project and development experience, we make a major contribution to the analysis of your operational data with tools such as:
Statistics
Report-Painter/ Report-Writer
Classic ABAP lists
ALV-Reports etc.
Using these tools, we can help you with the maintenance and optimization of your SAP landscape and reporting.